MESSAGE FROM SACT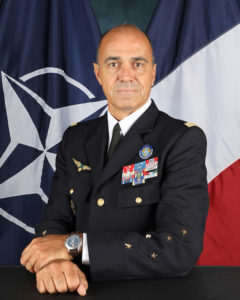 I am pleased to present the 2020 NATO Centres of Excellence (COE) Catalogue. This catalogue offers basic information on the growing NATO COE enterprise, which now consists of 25 accredited COEs, with three under development.
NATO accredited COEs play an important role in the domains of innovation, education and training, doctrine, and capability development, through experimentation and recommendations. They are also hubs, in their respective domains, for the enhancement of Allies and partners interoperability, where ACT plays a key role, along with innovation, to ensure that we remain capable of operating together. COEs also proved to be a very practical way of NATO-EU cooperation.
COEs' recognised expertise and experience is invaluable to our warfare development efforts, supporting the adaptation of our military capabilities. We consider the COEs as centrepieces of NATOs expertise network, and most COEs have proven to be a successful model for effective multinational solutions.
NATO COEs' ability and potential to deliver innovative ideas and timely expertise make them critical actors in bridging the current and future posture of the Alliance. Their tailored subject matter expertise and support to the NATO Command Structure, NATO Force Structure and other separate NATO entities is indispensable. ACT's warfare development efforts will leverage the strength of the COEs to ensure future interoperability and maintain our warfighting edge.
ACT has adapted its structure, and is now better suited to coordinate, cooperate with, and support the COEs. We established a new COE Programme Development Branch, formerly the Transformation Network Branch, with the mission to ensure that COEs are recognized as the Alliance's expertise providers, which support NATO's operations and warfare development in a timely and effective manner.
I would like to thank all the NATO and Partner nations that contributes to the success of the COEs, through commitment of personnel and resources.
And, I encourage everybody in the Alliance to utilize unique knowledge and expertise of the COEs. They represent reliable source of expertise, unique within NATO. I look forward to another productive year working with all the COEs to derive the full benefit of Nations' contributions.
André Lanata
General, French Air Force
Supreme Allied Commander Transformation
Download COE CATALOGUE 2020 PDF